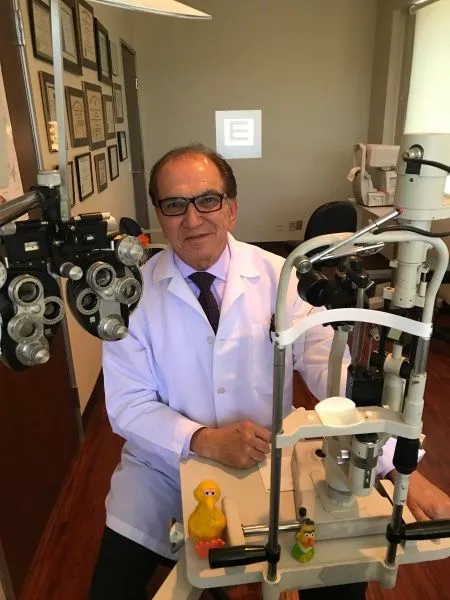 Dr. Mohsen Alinaghian,O.D.
Pediatric Optometry Division
For over 40 years, Dr. Mohsen Alinaghian OD, better known as "Dr. Ali" by his patients and colleagues, has been practicing General and Pediatric Optometry in Orange County.
After receiving his Bachelor of Arts degree from the West Virginia University, Dr Ali pursued his Bachelor of Science and received his Doctorate degrees from the Southern California College of Optometry in 1974. Since then, Dr. Ali has become a leader in the evaluation and treatment of learning disabilities and developmental vision in his field.
Dr. Ali has been serving Orange County through of the largest managed care facility and his private practice and as for over 40 years. Dr. Ali always provides his patients with comprehensive examinations that focus on the treatment and maintenance of optimum vision and eye health. His services include the diagnosis and treatment of Dry eye and allergies, Ocular disease, Glaucoma, and NON drug related treatment of learning disabilities. Dr. Ali also provides Orthokeratology. "Ortho-K" involves the reduction of astigmatism and/or nearsightedness with the use of custom contact lenses. It's a unique form of cornea reshaping, which may serve some as a suitable alternative for surgical vision correction.
To better meet the needs of our patients, Dr. Ali performs Laser Vision Correction (LASIK) consultations. Since every eye is unique, it is important to find an Optometrist that understands your individual vision needs. Dr. Ali takes great care in assessing if LASIK is right for you and affiliates with the countries best eye surgeons to ensure you get the great care that you deserve. Dr. Ali will be involved in the process from the beginning consultation through long after the procedure, managing your enhanced vision and eye health.
Dr. Ali often lectures to school psychologists, nurses and education professionals to help them recognize children that have difficulties with reading, comprehension, and learning. In some cases these children may have a treatable vision disorder which is impairing their performance at school. Unfortunately the basic "eye chart" exams do not recognize these disorders. Dr. Ali specializes in this field of treatment. Whether it be for school, or sports, Dr. Ali will determine if computerized home therapy can be beneficial to you and your family.
In his free time Dr. Ali enjoys spending time with his family, working with charity organizations , traveling, reading, photography, and learning the piano.